Zubair Enterprises Development Centre (Zubair EDC) is one of the initiatives which emanated from The Zubair Corporation's social responsibility strategic vision towards the Omani society. The vision reflects the corporation's belief in the importance of small enterprises in enhancing the national economy and contributing to sustainable socio-economic development.
Established in 2013, Zubair EDC is today a professional body that capitalises on its high professionalism, diversified offered knowledge, wide range of accumulated expertise, and its own global and local network and strategic partners. The Centre also builds on The Zubair Corporation's strengths to lead positive change in the local business environment, which supports small businesses and promising initiatives in the Sultanate. Services extended to Zubair EDC members include clinical solution-based advisory, capacity building, networking platforms, business development, and a yearly programme that selects ten winners who receive a financial grant, as well as intensive advisory services, branding, packaging, product stabilization, as well as business development.
Zubair EDC has opened its membership to Omani entrepreneurs to provide them with various benefits, including:
Direct access to the Centre's experts for business advisory services and the opportunity to connect with the respective staff in person or through various other channels.

Management tools such as business plan templates, organisational structure options, and feasibility studies.

Professional, educational and social programmes and events held regularly for small enterprises, including seminars, training workshops, and networking engagements.

Advisory services by specialised advisors.

Facilitated communication and interaction among fellow small enterprises.

Access to the Centre's strategic partners.

Preferred prices, offers and benefits from both local and national partners interested in supporting SEs.

Facilitated communication with selected financial institutions and reputable business corporations; Financial grants for selected entrepreneurs who get selected for the annual Direct Support Programme.

Business development opportunities.
Our Vision is to provide comprehensive support to Oman's promising small enterprises to enable them to succeed and grow in a sustainable manner, and contribute to positive change in the local business environment.
Our Mission is to create an independent, not-for-profit ecognized (Zubair EDC) to act as a solution-based advisory centre for Oman's small enterprises, help explore business development and market penetration opportunities for them, and enable them to progress and grow by achieving the required critical success factors.
Discuss the Business Concept
Assess Entrepreneur's Commitment
Sign Entrepreneur as a Member
Review, Assess & Develop the Submitted Business Plan
Understand Entrepreneur's & Venture Team Capabilities
Identify Characteristics of the Product/Service
Identify Characteristics of the Target Market
Provide Further Direct and Indirect Support
Launch & Accelerate Business
Advise the Entrepreneur as Needed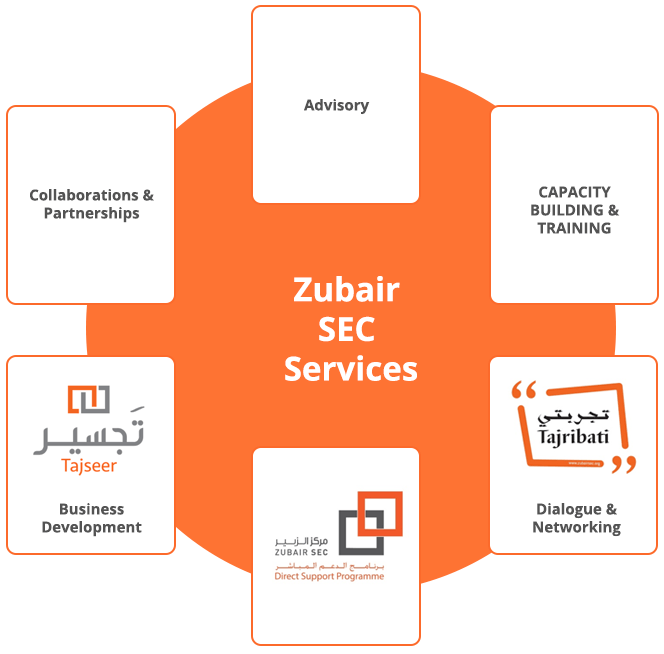 Learn more by visiting What we Offer.