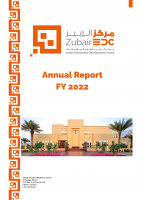 Zubair EDC has made a significant impact on the business progress of its members and the broader SME support ecosystem in Oman.
2022 proved to be a remarkable year for Zubair EDC, marked by the accomplishment of key milestones. During this time, we experienced growth in our member base, formed strategic partnerships, and solidified our positioning and reputation.
This booklet provides a glimpse into our achievements during this period. You can access the booklet by clicking here.